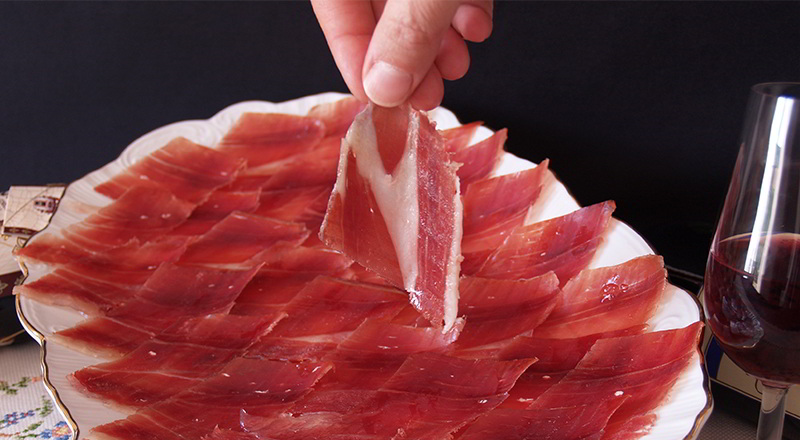 IBERIAN HAM SLICED AT HOME
In this article, we offer you some tips for buying sliced products online.
Three tips for buying sliced ham online:
Acorn-fed Iberian ham delivered to your home, always hand-sliced. If you're purchasing high-quality (acorn-fed) ham online, we recommend buying hand-sliced ham. Machine slicing can reduce the quality. However, if you're buying lower-quality grain-fed ham, it's not worth paying extra for hand slicing since it's more expensive.
Fast delivery. Make sure the shipping service to your home is fast and efficient. Sliced ham deliveries typically don't require refrigeration. Nevertheless, it's advisable to avoid prolonged exposure to excessive heat.
Online sliced ham with a guarantee. Remote purchasing often generates mistrust among consumers. We advise you to check the online store's guarantee and read reviews from other buyers before ordering your sliced ham for home delivery.
Sliced ham delivered to your home within 3-4 days (Europe).
This is our sliced Don Alberto Iberian acorn-fed ham with the following services:
Quality: 100% Iberian acorn-fed sliced ham.
Delivery: 3-4 days (Europe).
100% Guarantee: Exchange or refund.
Options: Gift packaging with greeting card.
Whole ham sliced and vacuum-packed.
In addition to the product shown in the previous image, if you desire a ham of different quality or weight, you can order any item from our catalog for us to slice it whole and vacuum-pack it. You can choose the product and request our hand-slicing service through your preferred channel (phone, email, or WhatsApp).
We will prepare the ham of your choice, hand-sliced and vacuum-packed, and deliver it to your home.
Lastly, we would like to mention that all our hams are sliced in the same week they are shipped to your address. In most cases, it is done the day before the shipment. Therefore, you will receive it freshly sliced, ensuring a longer shelf life.