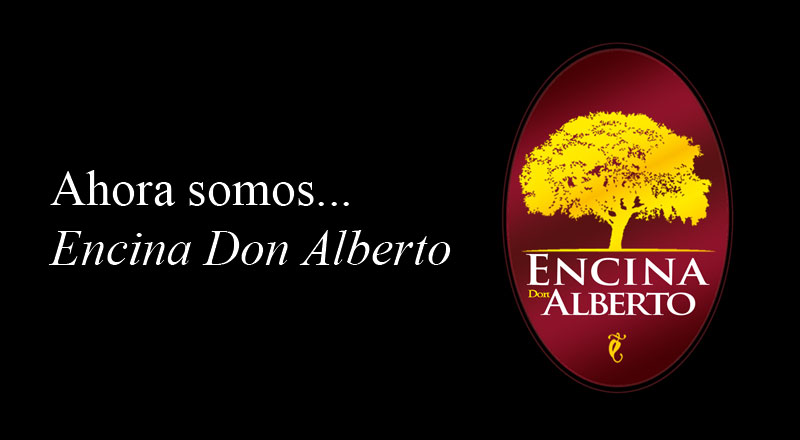 Encina De Jabugo is now Encina Don Alberto, we change the name
We inform all our clients that after several years with our online presence as Encina De Jabugo, in April we made a change in our commercial name and domain on the internet where our usual website EncinaDeJabugo.com is renamed EncinaDONALBERTO.com.
Our company name (Delicatessen Jabugo SL) and company data continue to be the same, as our catalog of products, qualities and services remain unchanged. Therefore they can continue using the same emails and telephones that they used to contact EncinaDeJabugo.
From Encina de Jabugo, now Don Alberto we offer you the same:
Quality and Seriousness
Full Warranty
Free returns
Delivery 24/48 hours.
SECTIONS ENCINA DE JABUGO (DON ALBERTO)
IBERIAN HAMS ONLINE
From our section whole hams can buy Iberian hams online of different qualities such as the following:
Artisan Delicatessen Real Reserve Ham, which comes from pigs fattened in freedom with the resources of the dehesa and cereals.
Iberico Bellota Gran Reserva Special Red Ham, a very balanced product in quality / price made from high purity Iberian pigs (75%) and fed in the field with acorns from the oaks and cork oaks of the Sierra de Huelva.
Acorn-fed Iberian ham G.R.E. Black, is the star of the Iberian ham. For this product, pigs of the highest purity (100%) are selected, fattened with acorns in the dehesas. It is a pure black leg acorn ham.
We also have two types of Iberian pallets from the Real Reserve range and the Iberian Bellota Paleta 100% G.R.E. Black.
SLICED IBERIAN HAM
Ham cut by hand is a product increasingly demanded. In this block you will find all the formats that we have cut vacuum packed ham.
Whole piece in 30 empty envelopes, half piece or a small pack of three vacuum-sliced ham sachets in a gift box. In all cases cut manually in thin slices by an expert cutter.
The cut format of vacuum packed ham is being implanted in our society for its convenience and usefulness. In this sense, mention the importance of cutting by hand for the best treatment to the slice, which in an industrial way with cutting machine.
OFFERS OF IBERIAN HAM
In our offers section you can find different discounted products of different qualities, acorn-fed Iberian ham on sale, batches with Iberian shoulder and other promotions of ham with wines, cheeses and gourmet items.
Also from www.EncinaDonAlberto.com , before www.encinadejabugo.com , we periodically send our customers promotions and coupons to buy ham, shoulders or sausages.
BASKETS AND LOTS WITH HAMS AND IBERIAN PALETTE
In this section we show a varied offer in Christmas baskets, corporate gifts and incentives. These Iberian lots are accompanied by high quality products, mostly with ecological certification. In addition to a careful presentation to offer an ideal option of corporate gift or individual commitments.
SAUSAGE ACORN IBERIAN
Iberian meats are extracted from the best acorn-fed pigs for the production of various sausages such as the 100% Iberian bellota loin, the Iberian morcón, and the Iberian dam acorn loin.
A special sausage with Pedro Ximénez of cutouts of bellota hams and a loin chorizo. All of them cured in a natural dryer and with the traditional dressings inherited from generations in the Sierra de Huelva.
OUR GUARANTEE
To buy ham with confidence it is necessary to support the product with a firm and solid guarantee as we do in Encina de Jabugo (Encina DonAlberto).
"If you do not like it, we'll refund your money" – Agile and free returns.
This guarantee of EncinaDonAlberto.com, before Encinadejabugo.com, is based on the total confidence we have in the hams we make. That is why we offer this option to customers, convinced that in very few occasions they will need to make use of it.
From our experience, less than 1% of the products shipped have incidence. And in most cases, these correspond to the delivery service.
OUR SERVICE
We pay special attention to offer a quick, agile and efficient shopping experience.
For this reason, in Encina de Jabugo (Encina DonAlberto) we offer a 24-hour national peninsular delivery, for orders received before 11 am and 48 hours for those received after that time.
PRESENTATION
We understand that a product as exquisite and unique as a good acorn ham requires a special presentation to give as a gift. Therefore, we offer our customers a gift packaging option in an elegant case.
In this sense we want to remember that from now on, packaging and labeling will be presented with the new brand Encina Don Alberto and our corporate name Delicatessen Jabugo SL, for the labels of the different products (hams, shoulders, sausages, loins, hams cut, etc …, instead of the one that appeared until now Encina de Jabugo.
INVOICE
Finally, mention that all orders received at Encina de Jabugo (Encina DonAlberto), are backed by their corresponding invoice issued from the corporate name of our company Delicatessen Jabugo SL.
Invoices, as indicated in the purchase specifications of our website, do not accompany the product. Since it is an item that is usually a gift on many occasions, we consider it more appropriate that prices do not appear in the same shipment. That is why we send them by email to the companies or individuals who request it from us.